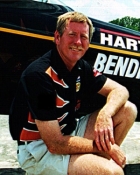 Bruce Bohannon, the pilot of the Exxon Flyin' Tiger, attended the 6th Annual Virginia State EAA Fly-in, September 7-8, 2002 at the Dinwiddie County Airport. His homebuilt plane has set many world class records, most recently the World Record for Absolute Altitude in Class C-1.b of 37,536 feet (pending certification by NAA and FAI ) and the World Record Altitude in Horizontal Flight in Class C-1.b of 35,497 feet, both at the Sun 'n Fun fly-in in April, 2002.

Known in aviation circles worldwide as "Mr. Time to Climb", Bohannon's name now goes into the "World & United States Aviation & Space Records" book a seventh time. Three of those records were set in his world famous Formula One racer "Pushy Galore", now on display in the Experimental Aircraft Association Museum in Oshkosh, Wisconsin.

The Exxon Flyin' Tiger is a single engine, single seat Experimental aircraft designed and built by Bruce Bohannon to climb faster and higher than any other piston engine airplane. Since its introduction in 1999, The Tiger has set four World Records for climb and altitude, "And we haven't even scratched the surface of what this airplane can do", says Bruce.

While sponsored by big names like Exxon Elite Aviation Oil, engine overhaulers Teledyne Mattituck Aviation and ignition manufacturer Unison Industries, "Team Tiger" is strictly a homegrown operation. Some members of Bruce's all-volunteer crew have been with him for over 10 years . Quietly continuing research and development at his private airstrip, Bruce Bohannon promises even more incredible feats from his homebuilt dragster, The Exxon Flyin' Tiger.